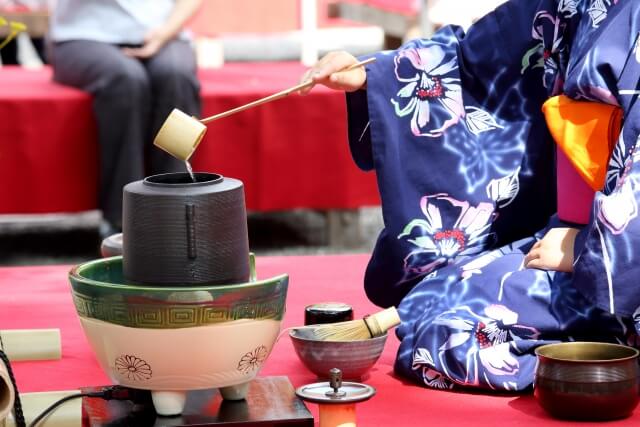 Do you all know about the "Three biggest Grand Tea ceremony" held within Japan? Just as Japan has the Three Great Views, Three Great Clear Streams, and Three Great Hot Springs, there are also the Three Great Tea Gatherings in the world of tea ceremonies. Those who are engaged in the way of tea might have heard of them at least once, but even those who lack experience might have come across them in the news or elsewhere. In this instance, we will introduce these Three biggest Grand Tea ceremony of Japan.
About Three biggest Grand Tea ceremony
These Grand Tea ceremony are the Nijo Civic Tea held in Kyoto City, the Kenrokuen Garden Tea held in Kanazawa City, and the Matsue Castle Tea ceremony event held within the national treasure Matsue Castle in Matsue City. All of them serve as seasonal spectacles, attracting visitors not only from the local areas but also from all over Japan and even from abroad. This allows them to experience Japan's traditional culture of "tea ceremony."
⒈Shimin Dai-Chakai (Grand Tea Ceremony)

It is a tea gathering held at Kyoto's Nijo Castle's "Seiryu-en" garden, known as an autumn spectacle in Kyoto. It takes place around October every year, where the three schools of tea ceremony – Omotesenke, Urasenke, and Yabunouchi – come together to serve tea and Japanese sweets to the attendees. The admission ticket, which includes entry to Nijo Castle, costs 2,500 yen for a tea seating. This year, the event will be held on October 22nd (Saturday), November 1st (Tuesday), and November 3rd (Thursday), each day from 9:30 AM to 3:00 PM during the daytime.
All you need to bring are a handkerchief (for wiping), a confection cutting tool, and if you have it, an folding fan for the tea. As for attire, there are people wearing traditional kimonos, Western clothing, and even casual jeans. The style is designed to make it easy for anyone to participate.
Upon arrival, you'll be given a numbered ticket for queuing, and participants will enter the tearoom in order. It's recommended to purchase tickets in the morning as same-day tickets might sell out.
Date

October 22〜November 3

Event Hours

From 9:30 AM to 3:00 PM (Last Entry) Scheduled

Admission Fee

Approximately 2,500 yen

Venue

Former Imperial Villa Nijo Castle, 541 Nijojo-cho, Horikawa Nishi-iru, Nijo-dori, Nakagyo-ku, Kyoto 604-8301

Transportation

◆ Immediately from the "Nijo Castle-mae" bus stop
◆ 5-minute walk from "Nijo Castle-mae" station on the Tozai subway line

Inquiries

Former Imperial Villa Nijo Castle Office, Kyoto City Bureau of Culture and Citizen Affairs
TEL: 841-0096 FAX: 802-6181
Website: http://www.city.kyoto.jp/bunshi/nijojo/
⒉ Kenroku-en Garden Tea ceremony
The Kenrokuen Garden Grand Tea Gathering in Kanazawa City, Ishikawa Prefecture, has been an annual tradition since 1995 (Heisei 7), and it celebrated its 22nd edition in 2016. Alongside the tea ceremony, the event also incorporates another concept: it aims to foster local ceramic artists by featuring the works of artisans' tea utensils and pieces that have been selected through general submissions and awards at the grand tea gathering.
The Kenrokuen Garden Grand Tea Gathering is organized by 14 companies from 8 different schools affiliated with the Ishikawa Prefecture Tea Ceremony Association. It takes place over three days from early September to late October (this year from September 30th to October 2nd). In 2016, the event was held across five venues around Kenrokuen Garden: Shigure-tei within Kenrokuen Garden, Gyokusen-an in Kanazawa Castle Park, Shoto-an in the 21st Century Museum of Contemporary Art, Matsukaze-kaku in the Former Nakamura Residence (part of the Kanazawa City Nakamura Memorial Museum), and Tamazutsumi-an in the Kenrokuen Garden.
Date

Early September to Early October

Event Hours

From 9:00 AM to 3:00 PM

Admission Fee

Tea seating tickets are available in sets of 3 for 3,500 yen or individually for 1,300 yen each

Venue

Kenrokuen Garden

Transportation

◆ Bus Routes
Kanazawa Station – Kenrokuen Garden (Kasumigasaki Exit) or Kanazawa Castle Park (Ishikawa Gate)
Kanazawa Station – Kenrokuen Garden (Katsurazaka Exit) or Gyokusen-an in Kenrokuen Garden (Tamazutsumi-an Exit)
Kanazawa Station – Kenrokuen Garden (Kodachino Exit) via Dejimamachi
⒊ Matsue Castle Grand Tea Ceremony
Lord Matsudaira Harusato, who ruled Matsue from 1767 to 1806, was passionate about the tea ceremony and is also known by his tea name, Fumai. Thanks to his passion, matcha (powdered green tea) and wagashi (Japanese confectionary) became a favourite of the people of Matsue, and they remain a part of Matsue's everyday culture. [More info in Culture and History] The biggest tea event of the year is the Matsue Castle Grand Tea Ceremony, during which numerous schools of tea gather on the Matsue Castle grounds and offer a taste of their schools to the general public. It is one of the top three tea gatherings in Japan. This event is popular with enthusiasts, but no prior knowledge is necessary to enjoy yourself!
| | |
| --- | --- |
| Date | Early September to Early October |
| Event Hours | From 9:00 AM to 3:00 PM |
| Venue | Matsue Castle Park, Matsue History Museum, Akayama Tea Ceremony Hall |
For those of you who are unfamiliar with tea ceremony, why not participate and observe it with ease? How about experiencing tea ceremony and sightseeing at the same time?