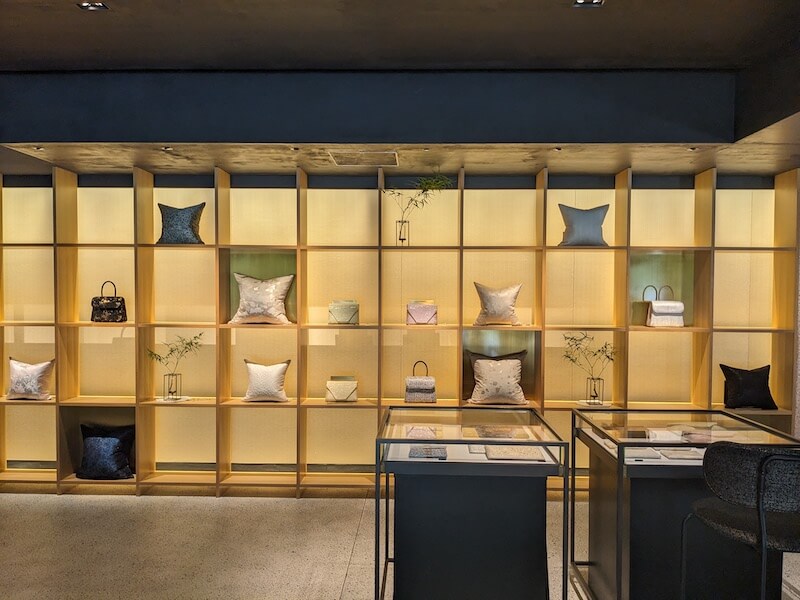 HOSOO, based in Kyoto's Shijo district, is a venerable weaving company specializing in pre-dyed patterned fabrics. They have created the textile brand "HOSOO" within the Nishijin weaving tradition and have expanded traditional craftsmanship to a global audience. I had the opportunity to visit their gallery.
About HOSOO
Founded in 1688, "HOSOO" is a longstanding weaving company that represents Nishijin weaving in Kyoto. It has a history of meeting the demands of noble customers, including the imperial family and shogun households, since its inception. Today, their high-quality textiles are used in famous brand interiors and designs. They continue to develop and sell products that showcase their expertise and the beauty of Nishijin.
HOSOO GALLER
The gallery opened by HOSOO features an elegant atmosphere and design that incorporates not only traditional Japanese elements but also Western influences, showcasing the artistry of Nishijin weaving as a textile. The building's interior walls are constructed using traditional methods with four types of soil collected from temples and mountains near Kyoto.
The first floor of the gallery displays a variety of products, including bags and pouches made from Nishijin textile. These bags are inspired by the unique "sukiyabukuro" bags used in traditional tea ceremonies, and they are designed to complement kimono, dresses, and even everyday attire, making them iconic HOSOO items.
The garments displayed include outerwear and sleepwear. While they are priced around 100,000 yen, you can feel the authenticity of their comfort and lightweight design when you wear them. HOSOO offers a range of seven dye colors, including "Kihada," "Japanese madder," "ume," "Nihon murasaki," "ume (iron mordant)," "shii (iron mordant)," and "yamamomo (iron mordant)," which can be selected for customization.
They also have beautiful curtain designs that combine delicacy and luxury.
Laid out on glass plates is tableware. Artisans meticulously craft tableware from textiles, capturing light with Nishijin weaving's characteristic metallic sheen, enhancing the space with the stories embedded in the textiles and a fantastical design.
Furniture is also available, such as lounge chairs that highlight the beauty of textiles. The refined wooden frame brings a sophisticated urban mood, ensuring an elegant sitting experience. They also offer customization options.
The second floor
The second floor houses various collaborative exhibitions, primarily focused on textile weaving from multiple perspectives, including art, design, craftsmanship, and science.
Quiet and solemn spaces on the second floor display Nishijin woven textiles on the walls. You'll find precious items here that you can't see anywhere else!
Relax in the Café!
In the area where HOSOO's tableware is laid out, there is a café where you can enjoy desserts and drinks provided by HOSOO. Seasonal sweets, tea, champagne, and more can be savored in traditional craft vessels, creating a rich experience!
This time, I enjoyed seasonal Japanese confections in a private space with lounge chairs available since there were empty seats. The space outside is covered with gravel, creating a serene atmosphere reminiscent of wabi-sabi.
This time, I had matcha and macarons. The macarons were themed around "kasane irome," which is the color coordination beauty of women's kimono born from aristocratic culture in the Heian period. They were mango-flavored, matching the season. 🍊
Seoo more about HOSOO