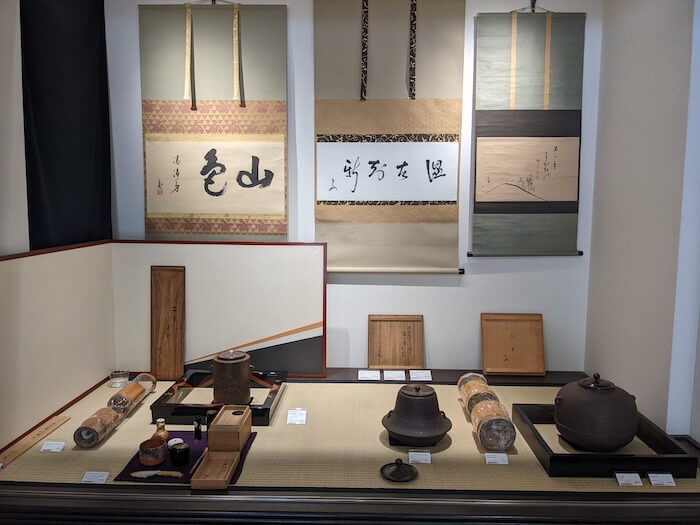 Today, I'll introduce Horikawa Imadegawa. If you're taking the train, the nearest station is Imadegawa Station, but this area is surrounded by places that embody the essence of Kyoto, such as Kitano Tenmangu Shrine, Kyoto Imperial Palace, Doshisha University, and Nishijin Textile Hall.
Once you leave the main street lined with Doshisha University, you'll find hidden gem-like sweets shops and stone-paved paths. The atmosphere here is more suited for locals than tourists.
Horikawa Imadegawa is home to three schools of the Japanese tea ceremony: Omotesenke, Urasenke, and Mushakoji Senke. It has become a place closely connected to the culture of tea ceremonies in Kyoto.
The Nearest Station: Imadegawa Station
To get here, you can take the subway Karasuma Line from Kyoto Station and get off at Imadegawa Station. Alternatively, you can take a bus from Shijo Station.
Located in a serene area, the vicinity is bordered by main roads, making it a tranquil place cherished by locals.
Imadegawa Station is close to Doshisha University and Kyoto Imperial Palace. Although it is not a major tourist spot, if you want to fully enjoy Kyoto, I recommend paying a visit here.
Take a Stroll on the Tea Ceremony Street
Once you leave the station and walk a bit down a side path from the street with the view of the university, you'll come across an unusual and elegant street. Stepping into this area, you'll feel a unique atmosphere.
This area is known as Ogawa Street (Ogawadori). It extends from the north to Shimyo Street and from the south to Nishikyojidoru.
It looks more like a traditional street as you proceed further. Let's continue walking.
I spotted a stylish shop displaying art pieces. The pieces seemed to incorporate foreign designs, quite different from the traditional Japanese tea ceremony aesthetics. The shop has a trendy vibe!
■Urasenke Gakuen (Urasenke School)
As I continued walking down the street, I saw a sign that read "Urasenke Gakuen." This is the "Urasenke School Tea Ceremony Specialist School" established in 1962 by Sen Soshitsu, the 15th generation head of the Urasenke school.
The school offers regular and special courses, as well as a foreign student training program, attracting students of various ages and backgrounds from all over Japan. Thus, besides learning from the professors, students also learn from each other through interactions.
The courses last for three months, during which students learn the manners and principles of the tea ceremony while experiencing Kyoto's culture. As it is not a major tourist spot, you can merely feel the ambiance around the school.
Come to think of it, I saw many men wearing hakama (a type of traditional Japanese clothing) around this area; they might have been students attending this school!
Greeting the Jizo Statue Along the Way
■Honpoji temple
While walking, I found the entrance to a temple. This temple is Honpouji, one of the head temples of Nichiren Buddhism. It seems to be the temple where Honami Koetsu, a renowned artist during the Momoyama period, had a connection.
The temple is more magnificent than I had expected. One of its highlights is the nationally designated garden "Tomo no Niwa" (Garden of Tomoe) located in front of the study. It is a splendid garden in the style of the Momoyama period, with artificial rocks symbolizing a dry waterfall.
I heard that this place is also famous for cherry blossoms in spring and offers a delightful view in both spring and autumn.
Open Hours: 10:00 AM to 4:00 PM
Admission Fee: Regular Admission 500 yen (including the garden)
We found an impressive mansion-like building along the street. The buildings and surroundings here exude a sentimental atmosphere that embodies the spirit of the Japanese.
It's delightful just to walk along this street♪
We've reached the end of this street. At the end, there is a noren (curtain) visible.
■Tawaraya
A charming and elegant shop comes into view. It piques my interest.
This shop is a tasteful sweets parlor. It is a small "charon" with only 8 seats, but the sweets, which fully utilize the characteristics of the ingredients, are well-received for offering a quiet space away from the hustle and bustle.
The menu includes "anko honey," "honey beans," and "matcha set (with wagashi)." Perfect for matcha and traditional Japanese sweets enthusiasts♪
Business Hours: 10:00 AM to 4:00 PM
Closed on Tuesdays
See more
Walking Along the Main Road
After passing Ogawa Street, if you continue walking a bit further from the station, you'll face a large street. This street doesn't have any noticeable decorations, signs, or guidance, but it exudes a calm atmosphere. Nevertheless, as you walk along this street, you'll come across various tea-related shops and buildings.
■Chado General Resource Center
This Chado General Resource Center is equipped with a "Chado Information Museum" for exhibiting and promoting the art of tea ceremonies and the "Imafuan Bunko" for collecting, preserving, and displaying materials related to the world of tea ceremonies, as collected by successive heads of the tea schools. When I visited, it happened to be a closing day, so I couldn't take a look inside. However, it seems that exhibitions and events are held regularly.
詳細はこちら
■Omotesenke Kitayama Kaikan
Omotesenke Kitayama Kaikan is a place where events related to Omotesenke tea ceremony and exhibition items are on permanent display.
Open Hours: 9:30 AM to 4:30 PM (Admission until 4:00 PM)
Closed: Mondays (Open on public holidays, closed the following day), during exhibit replacement, etc.
See more
I can see several tea-related shops along the street. "Chadogu Miyashita" is a shop that sells and buys top-quality tea utensils and practice materials and is located very close to the heads of Omotesenke and Urasenke, in Kamigyo-ku, Kyoto City.
There are many other intriguing cafes and shops♪
Nearby, you'll find the Nishijin Textile Exhibition Hall and the famous Raku Museum, among other places to visit. You won't get bored spending a leisurely day here. For those interested in the tea ceremony, I recommend giving it a visit!