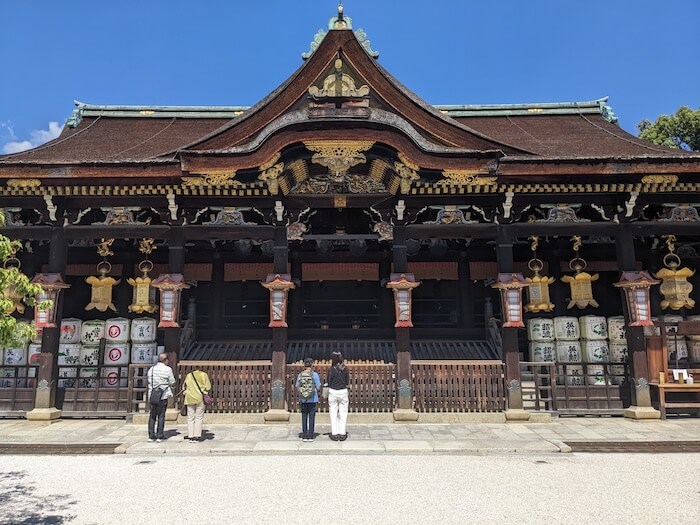 In Kyoto, there are various famous tourist attractions, but have you heard of a place called "Kitano Tenmangu" among them? This shrine, dedicated to Sugawara no Michizane and affectionately known as "Tenjin-san," is cherished by the locals. Let's take a closer look at Tenjin-san!
What is Kitano Tenmangu?
"Kitano Tenmangu," located in the central area of Kyoto, is a shrine established in 947 AD, enshrining Sugawara no Michizane as the deity. Sugawara no Michizane is revered as the god of scholarship, and it's a power spot for academic success, drawing numerous students every year. There are approximately 12,000 shrines dedicated to him nationwide, and Kitano Tenmangu in Kyoto is the head shrine.
Events such as "Tenjin-san Day" held on the 25th of every month and many annual ceremonies take place here.
Kitano Tenmangu Tourist Information
| | |
| --- | --- |
| Address: | Bakurocho, Kamigyo-ku, Kyoto City, Kyoto Prefecture |
| Phone Number: | 075-461-0005 |
| Closed: | None |
| Operating Hours: | [April-September] 5:00 AM – 6:00 PM [October-March] 5:30 AM – 5:30 PM (Extended during Momiji-en illumination period, New Year, etc.) |
公式サイトはこちら
Explore Kitano Tenmangu!
The entrance features a large torii gate like this!
On either side of the torii gate, guardian lion-dogs are enshrined.
A straight path continues toward the main hall. Walking here creates a serene atmosphere that calms your spirit.
Another torii gate appears!
Before entering the main hall, you'll encounter another large gate, commonly known as the "Sanko-mon" (Three Lights Gate), designated as an important cultural property. It's named after the sun, moon, and stars, which are carved into the rafters, hence the name "Sanko-mon."
It's quite impressive up close!
Throughout its over 1,000-year history, the shrine has been repeatedly repaired by the imperial court and shogunate after fires. The current main hall, rebuilt by Toyotomi Hideyori in 1607, exhibits the ornate craftsmanship and opulent decoration characteristic of Momoyama culture. At Kitano Tenmangu, known as the god of scholarship, you can purchase prayer items for academic success, including pencils.
There are also shops lined up next to the shrine.
While famous spots like Kinkaku-ji and Ryoan-ji are nearby, Kitano Tenmangu is surprisingly a peaceful spot with fewer visitors, making it a recommended destination for sightseeing!