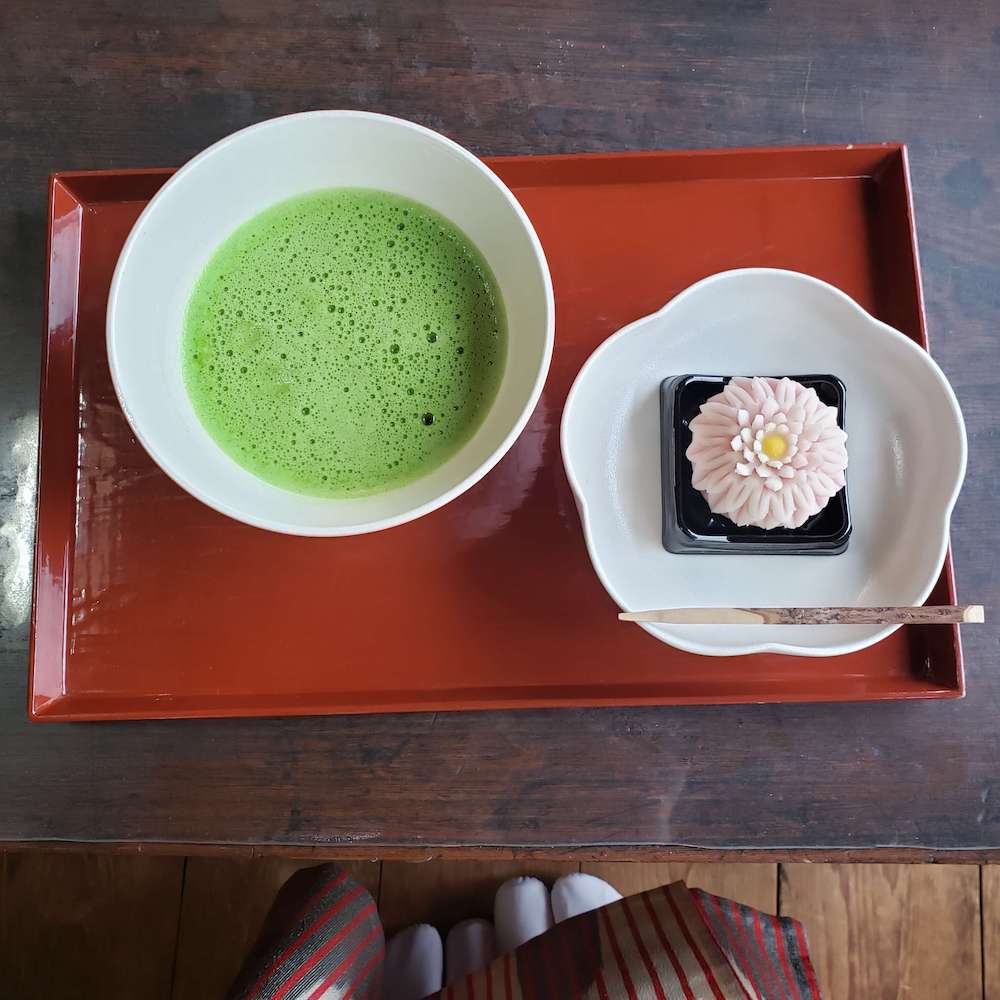 This time, I will introduce a perfect place for going out in a kimono.
The location is Tokyo's Yanagibashi. Just a 5-minute walk from Asakusabashi, it was once a lively geisha district. Nowadays, it's a place lined with wholesalers, and artisans and salarymen crowd the area.
In such a location, there exists the Lucite Gallery/Cafe that I will introduce this time.
A shop perfect for going out in a kimono! Lucite Gallery / Lucite Cafe
Lucite is a colorless transparent synthetic resin developed in the 1930s in America. It is colorless and transparent, and can be dyed in various colors. The name was chosen because the gallery hosts various exhibitions, allowing for a range of colors to be displayed, which is fitting for the gallery.
The mansion surrounded by walls suddenly appears as you walk along the Sumida River.
Upon entering the shop, you find yourself in a different space
It has an unmistakable presence that even amateurs can recognize. As you quietly pass through the gate, sliding doors appear.
As you quietly pass through the gate, sliding doors appear.
Both a gallery and a cafe, which would you like to use? Answering the inviting question from the pleasant shop attendant, you head upstairs.
After climbing a slightly steep staircase, you arrive at a spacious cafe space where time flows slowly.
Meals can be chosen from matcha sets and cake sets
This time, I ordered the limited-time matcha and Japanese sweets set (1,000 yen).
The gently sweet and smoothly melting nerikiri are said to be sourced from a famous local shop. I savor them in harmony with warm matcha.
This is a place where you forget about time, a place where there are no time constraints and where freedom and nature are one, a place where you can return to the time when everything felt natural.
Lucite Gallery was originally the residence of Ichimaru-san, a geisha and singer who was active in the Showa period. I wonder what kind of person Ichimaru-san, who had this place all to herself, was.
Geisha singers of that time were professionals who sang while being geishas or even while recording records. Ichimaru-san was a stoic woman who remained single throughout her life, and she had a strong core. The amber-colored floor that feels the passage of time seems to echo with footsteps from that era.
Stepping onto the terrace, a luxurious space unfolds with a view of the Sumida River. As I watch the clouds drift slowly and the orange hue takes over, I feel the faint scent of the tide and a slight rise in my body temperature as occasional boats pass by. I savor the pleasant breeze.
In the evening, it becomes a bar, and there are also events like tea ceremony classes.
In the evening, it transforms into a bar. Enjoying a drink while gazing at the night view, it's a drink that makes you forget the everyday.
Kimono, the Sumida River, and alcohol. I wonder if Ichimaru-san also contemplated life while looking at this scenery.
Immersing oneself in the atmosphere of the Showa era, it's a space where you can experience something out of the ordinary.
Once you have the chance to wear a kimono, why not visit a place like this? Lucite Gallery holds solo exhibitions in the first-floor gallery and offers tea ceremony classes, flower-throwing classes, and more for lessons.
As it has irregular hours on holidays, please check the website for operating days.
Shop info
| Lucite Gallery | |
| --- | --- |
| 所在地 | 1-28-8 Yanagibashi, Taito-ku, Tokyo, 111-0052, Japan |
| Phone | +81-(0)3-5833-0936 |
| Open/closed | Irregular holidays |
More info