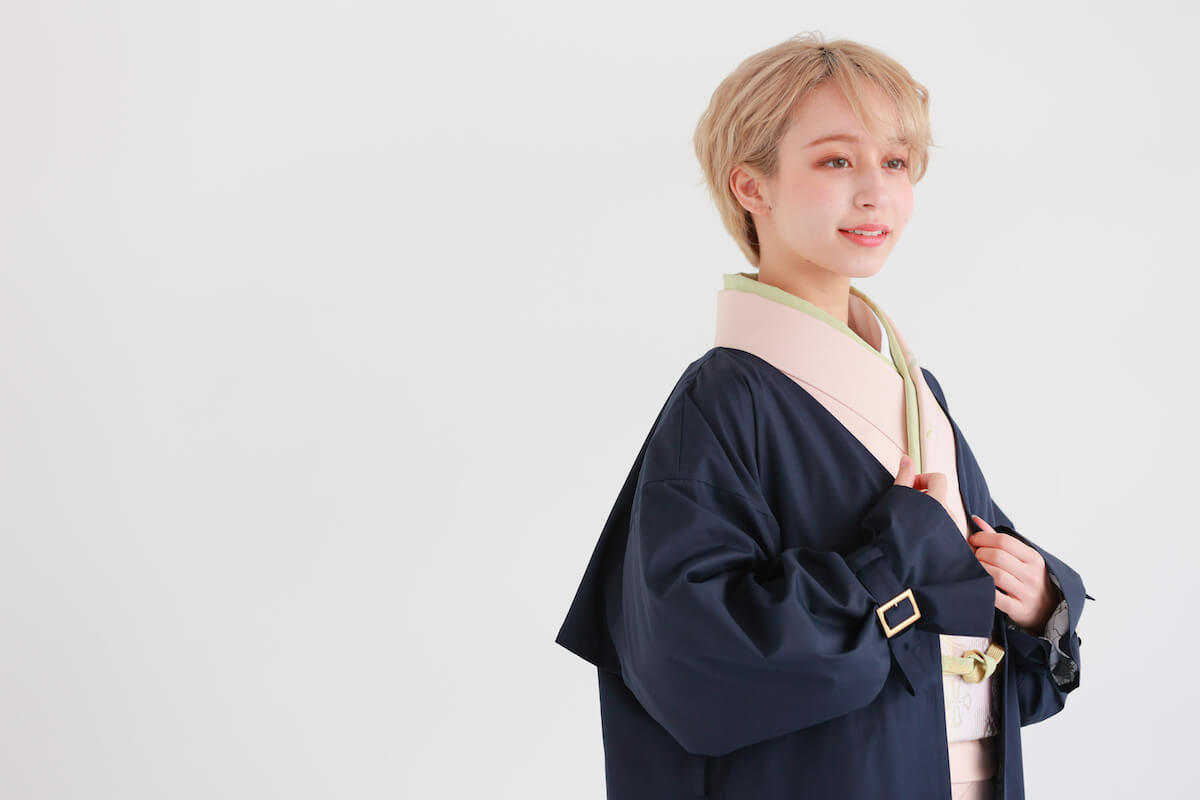 Hello, everyone. This time, I'd like to explain about "Japanese-style coats" that can be worn over a kimono, which may be confusing for those new to wearing kimono.
First of all, is it necessary to wear something over a kimono?
The answer is yes! It is better to wear a Japanese-style coat when going out, even from a manners perspective. There are two main reasons for wearing a Japanese-style coat over a kimono.
Reason 1: To protect the kimono from dust and dirt
When traveling from home to your destination and back, the kimono can get dirty or damaged by accidental rubbing. Therefore, wearing a Japanese-style coat is not just for winter to keep warm; it can be worn regardless of the season to protect the kimono.
Reason 2: To maintain the proper appearance
When standing up and sitting down in a kimono, it tends to become disheveled. Especially, the obi (kimono belt) can loosen and sag as time passes. To avoid showing such disheveled appearance, wearing a coat is necessary.
Considering the above points, I highly recommend preparing a Japanese-style coat. There are mainly three types of Japanese-style coats:

●Michiyuki (道行): The most formal coat.

●Dochuugi (道中着): A coat suitable for various occasions, both formal and casual.

●Haori (羽織): A casual coat, often worn with casual kimono.
Although they serve the same purpose, there are subtle rules for wearing each coat depending on the formality of the kimono.
I understand that it might be difficult to have a clear image of each type of coat. So, how do you know when to use which one? I'll explain that in this article!
I hope this article can be even a little helpful as you enjoy wearing kimono!
1 Michiyuki
First, let's talk about the "Michiyuki" coat. The Michiyuki coat has a square-shaped collar, and it completely covers the obi (kimono belt). It can also be fully closed with snap buttons.
Among the Japanese-style coats, the plain (with no pattern) Michiyuki is the most formal and can be worn with formal kimono like houmongi or tsukesage. However, if the Michiyuki has small patterns all over, called "komon," its formality level decreases. In such cases, it is recommended to wear a komon-patterned Michiyuki with a casual kimono.
■Michiyuki Gray
¥74.800(TAX included)
Here is an example of a plain Michiyuki without any pattern. It can be paired with both casual and formal kimonos. The large buttons are a point of interest, and the simple color makes it easy to match with various kimonos, making it highly recommended. This Michiyuki is made of polyester fabric, which allows for easy washing and casual enjoyment.
See more
■Reversible Michiyuki pink
¥55.000(TAX included)
It is maed of polyester. Washable fabric.
詳細はこちら!
2 Dochuugi
Next is the "Dochuugi," which, when worn, has a collar similar to a kimono and also hides the obi. Like the Michiyuki, if it is plain, it is considered more formal and can be worn with houmongi or tsukesage. By the way, both Michiyuki and Dochuugi are considered outerwear, so it's proper manners to take them off when entering indoors.
■MELETY Navy Blue Three-Way Raincoat for Both Japanese and Western Style
¥43.000(TAX included)
This three-way coat is not just a straight-out raincoat. It goes very well as a coat both with Kimono and Western style clothes.
The fabric is water-repellent and repels water, but the stylish buttons and silhouette make it look like a regular coat rather than a raincoat! It's designed with a rainproof yoke as well. It not only serves a functional purpose but also adds a nice touch to the overall look. It's very versatile and can be used as casual wear too.
This coat is recommended for those who have no idea what to wear over Kimono when going out.
Soft gold buttons and buckles add elegance and its V-neck design looks good with Kimono.
Its chic black and white floral lining stays subtle both with Western style clothes or Kimono. It looks simple outside, but it raises you when you get a glimpse of its floral lining from the hem or as you roll up your sleeves.
It's designed with a rainproof yoke as well. It not only serves a functional purpose but also adds a nice touch to the overall look. It's very versatile and can be used as casual wear too.
This coat has a slit to avoid looking baggy. You can do up the hidden button to fasten the slit when wearing Kimon. Besides, the sleeves are loose-fitting to make it easier to put on and take off Kimono, meaning that you can wear a thick sweater without looking plump.
All the belts on its waist and sleeves are removable to suit any situation. Dress casually without belts when you want to relax and look simple. Otherwise, you can adjust the belts on sleeves, so tighten them to make it look like frills. Suit it to your mood and situation, and have fun!
Vivid color bag is recommended for this navy coat. A Japanese style bag is selected this time. Pair it with straight jeans and black heels to look cool and cute.
For those who are considering wearing a Japanese-style coat and increasing their opportunities to wear kimono, how about starting with this coat that can also be paired with Western clothing?
詳細はこちら!
■Wool Alpaca Coat
¥63.800(TAX included)
This is a winter-style coat made with a blend of wool and alpaca.
The "Hatsugama" tea ceremony, which is held in January or February in many places, often requires wearing kimono in cold weather. For those who wear kimono during the chilly season, having such a thick fabric coat like this one as protective outerwear can come in handy.
I hope having these types of coats will be helpful for you during your kimono outings and tea ceremonies!
詳細はこちら!
3 Haori
The "Haori" is designed to have the front obi visible when worn, making it similar to an overcoat for kimono. If we compare it to Western clothing, it's like wearing a cardigan or jacket over a blouse.
Haori is generally worn with casual kimono like "komon." However, recently, some people have been seen wearing plain Haori with more formal kimono like "houmongi."
When wearing Haori like a jacket indoors, it's fine to keep it on, but when attending a tea ceremony or a wedding, it's proper etiquette to take it off and fold it neatly in a furoshiki (wrapping cloth) or similar.
■Haorie Darkgreen

¥38,500(TAX included)
The elegant and deep "green" color goes well with sophisticated colors like beige and gray. It's a recommended combination for autumn and winter wear.
詳細はこちら!
■Drape Coat – Alpaca
This Haori is slightly thick. The relaxed A-line gives a stylish look, creating a sophisticated silhouette for a matured adult. The luxurious texture of the fabric adds elegance to the outfit.
詳細はこちら!
How did you like it? Nowadays, there is a wide variety of Japanese-style coats, expanding the possibilities for coordinating outfits. So, why not enjoy wearing them not just as protective wear against the cold and dust but also as "fashionable attire"?